I am a classically trained pianist and composer. I also play the pipe organ, an instrument that has always fascinated me due to its incredible expressive capabilities.
Becoming a full-time musician was not among my goals, but my passion for music and innate curiosity drove me to pursue my musical studies at the Vicenza Conservatory of Music, while in parallel attending middle/high school and college.
Piano and organ
My piano repertoire includes classical music, ragtime, soundtrack, and pop/rock/latin music.
I am available to play at weddings, parties, and receptions: contact me to find out more and to hire me!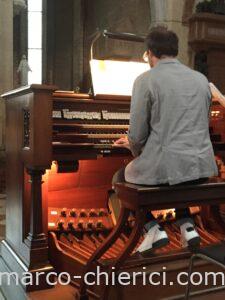 Composition
My composition "Pomeriggio d'estate" (Summer afternoon) for flute and piano was performed at the Vicenza Conservatory at the end-of-year essay of the Composition School in 2000, and at the May 2002 concert at the Oratorio S. Nicola in Vicenza (first public performance).
In May 2002 I wrote the stage music "Divertimento for flute, violin, clarinet and piano" for the performance "Esercizi di stile" on a text by R. Queneau, held at the Vicenza Conservatory.
In April 2003, my musical fairy tale "Cappuccetto Rosso" (Little Red Riding Hood) received an honorable mention at the "Music and Fairy Tale" Composition Competition organized by the Bianchi Academy in Sarzana (La Spezia, Italy).
In December 2003 I completed a cycle of ten variations for orchestra, based on my theme, which were performed by the orchestra of the Conservatory of Vicenza on March 10, 2004.
More recently, I have focused on writing music for piano solo and small ensembles (piano and flute or violin, trios, etc.).